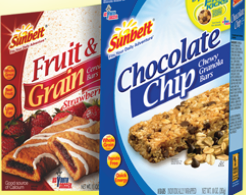 There is very good deal on cereal and milk this week at Shaw's.  Buy three General Mills cereals (select) 3/$6 and get a coupon for a free gallon of Milk at checkout.  This is the best deal
Buy three Kix or Honey Nut Cheerios (or Mix and Match) $6/3
Use $0.75/1 Kix Cereals: Kix, Berry Berry or Honey Kix
Use $0.75/1 Kix, Berry Berry Kix, or Honey Kix
Use $0.75/1 Honey Nut Cheerios (when you play the game)
Pay $1.50 for three boxes after doubled coupon and get the coupon for FREE gallon of milk
As with almost every General Mills coupons, these coupons say "Do not Double or Triple." But they will double automatically at the register. if you didn't know it the manufacturer adds this disclaimer to the coupons to not be accountable for the doubled amount of the coupon. The manufacturer only pays the face value of it.
While I was there, I also noticed that the boxes of Sunbelt granola bars were $2 each. Use this $1/1 Box of Sunbelt Product, 8 ct (PDF) and the doubler from the sales circular to get them FREE.
For this week's Shaw's coupon match ups, check out Money Saving Maine-iac!