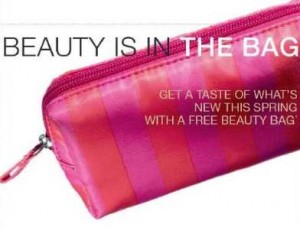 Update: It looks like this offer is over now.
Target is once again offering the free Beauty bag this time for free on its website.  Beauty bag stocked with coupons and goodies from Nivea, Nexxus, Pantene, L'Oreal, Neutrogena, Simple and more.
I am not sure if this is a different offer from the one available on the Target Facebook page a few weeks back.  In other words, I am not sure if you will be able to get two if you signed up before and sign up again.  but if you wish to give it a try… sign up for the beauty bag here.