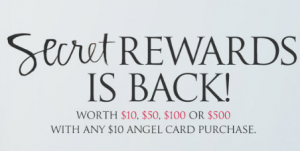 Attention Angel Card Holders!  Now through 10/28, when you make a purchase at Victoria's Secret in-stores or online, you will get a free Secret Rewards Card.  Simply enter promo code EARLYANGEL at checkout.  Each card is worth at least $10 and up to $500.  It is a secret until you either redeem it in-store, online or phone between 12/5-12/20.  Go here to see how you can unlock even bigger rewards!
You may be able to find something in the clearance section that is super cheap or even free after rewards card.
Please note that even if you're not a Angel Card Holder the general public will be able to get these rewards cards starting 10/29/13.