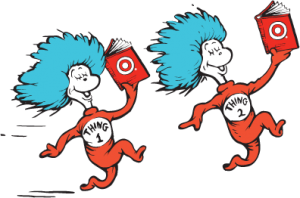 Tomorrow 2/26, stop by your local Target from 9-11AM to enjoy some Dr Seuss Story Time: enjoy giveaways, coupons and hear Dr. Seuss favorites. This sounds like fun and hopefully you can take advantage of the opportunity and snag some of the hot Target deals this week.
Here are more free family activities:
AC Moore – Saturday 1-3pm, Wilton Cake Decorating Basics Demonstration!
Barnes & Noble – Saturday, Free Cup of Coffee when you have a bookseller give you a guided tour of the NOOK Color.
Borders – Saturday 2pm, Elmo's Birthday Party – free games, songs, giveaways and more.
Lakeshore Learning – Saturday 11am-3pm, Free 'My Very Own Storybook": kids create an accordion style book to tell their own story.
Lowes Build and Grow – Saturday 10am-Noon, Kids build a Free Race Car that includes a #48 sticker and a pull back motor.
Michaels – Saturday 10am-Noon, The Knack Family Event: My First Science Kit Demo. Ages 3+.
Thanks, Keeping Cents!