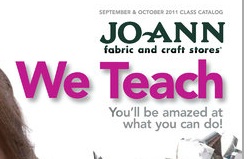 Here are the free family activities this weekend:
AC Moore: On Saturday 8/27 from 1-3pm at AC Morre, buy a Topload Album and Create a School Year Keepsake Book. Use this coupon to receive 55% off if you shop. On Wednesdays from 3-5pm all summer long they also have a free kids craft activity. 
Disney Store: On Saturday 8/27 from 10:30am-1:00pm, Disney Store is hosting The Story Begins with You Event. Dress up your favorite Disney Princess or create a new Disney Princess, then write her "happily ever after" story. Minimum age for participation is 3 years and lineups won't begin until 30 minutes ahead of time. 
Jo-Ann Fabric and Craft Stores: On Saturday 8/27 from 11am-1pm there is Free Demo: Papercrafting with Fiskars & the Paper Company. Also on Saturday from 1pm-3pm, Free Demo: EK Success Paper Punches.
Lakeshore Learning: On Saturday 8/27 from 11am-3pm, Lakeshore Learning will host Honeybee Hive. Kids will make a hanging honeybee hive with worker bees.
Lowes: On Saturday 8/27 from 10am to noon kids will build a school locker that includes stickers, chalkboard and chalk! Be sure to sign up for this event here.
Pottern Barn Kids: On Saturday 8/27 at 11am, The Very Hungry Caterpillar Book Club event will take place. Kids read along and help build a mobile about healthy eating and more.
Target: Select a city to find free or reduced. Price admission to arts and cultural events in your area, sponsored by Target.
Toys R Us: Saturday 8/27 from Noon-2pm, Beyblade Tournament: Come in and get ready to battle! Try out the hottest Beyblade Tops!
Walmart:  Enter your zip code to see what is going on in your area. Some surrounding stores are featuring: Totinos Pizza Rolls, Velveeta, Tyson, and Taco Bell Sampling Events & More.