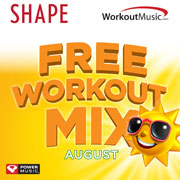 Get a FREE Workout Mix Song downloads courtesy of Shape!  Just enter your email address and download through iTunes or a zip file.  Here is the list of songs included in this free samples:
1. Good Time – Owl City & Carly Rae Jepsen
2. Want U Back – Cher Lloyd
3. World, Hold On – Bob Sinclair
4. All Over the World – ELO
5. Whistle – Flo Rida
Nice free selection for the month of August.