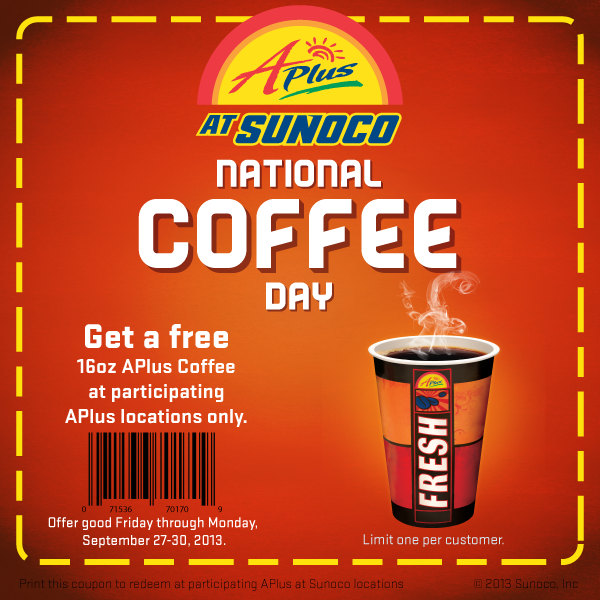 September 29 is National Coffee Day, so this time APlus at Sunoco is giving away a free 16oz. coffee this Friday, Saturday and Sunday (9/27 through 9/30) to any customer that brings in the attached coupon!  You'll need to get the offer on their facebook page.
Please note that the coupon is only redeemable at APlus Sunoco locations, not all Sunocos, so it is vital to include Sunoco's Gas Station Locator [https://www.gosunoco.com/gas-station-locator/]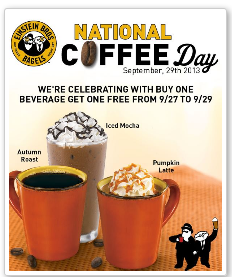 Enstein Bros Bagels is offering you Buy One Get One Free Beverage with coupon. Valid 9/27-9/29/13.  Some exclusions apply.
Here are a few others you may be interested in:
Dunkin' Donuts – On September 29th, they're treating guests to a FREE small hot or iced Dunkin' Donuts coffee at participating DD restaurants throughout the United States. The offer is available and redeemable only on National Coffee Day through the "My Offers" tab of the Dunkin' Mobile® App, which is available for both iPhone® and Android™ mobile devices.
Krispy Kreme Doughnuts – Get a FREE small cup of coffee at participating US and Canadian Krispy Kreme locations this Sunday, September 29th.  No purchase necessary. Fans of fancier specialty coffee drinks can also get any 12oz mocha, latte, or iced coffee including Krispy Kreme's delicious Pumpkin Spice Latte, for just $1 at participating Krispy Kreme locations. Excludes Puerto Rico.
Peet's Coffee and Tea – Enjoy a Free Small Maple Latte with the purchase of an artisan baked good or simply oatmeal, between 10:00 AM – 2:00 PM on Sunday, September 29th with this coupon.
Starbucks Coffee – Customers can sample Ethiopia coffee at participating Starbucks stores in the U.S. on National Coffee Day, September 29th, and those who purchase a 1 lb. bag of Ethiopia whole bean will receive a commemorative Ethiopia tasting cup, while supplies last.
Tim Hortons – Tim Hortons Café & Bake Shops will offer its U.S. guests a free coffee with the purchase of another coffee during National Coffee Day on September 29, when they say "Happy National Coffee Day" to a team member.  Tim Hortons Cafe & Bake Shop also will be surprising social media fans with giveaways on Twitter throughout the afternoon of September 29th.
WaWa Coffee – Sign up to receive a coupon for a FREE 16oz cup of Wawa coffee on National Coffee Day, September 29.
Thanks capitallyfrugaldc