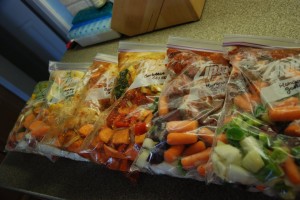 Yesterday I gave you an overview of freezer cooking.  You can read yesterday's post here.  Today I want to give you tips on making the most of your actual freezer cooking day.
Grocery Shopping:
Plan to do you shopping for freezer cooking on a day OTHER than the day you plan to cook. Cooking for a month at a time is a big job! Shopping for all of that food is a big job! Save yourself the stress by not trying to do this in one day.
Ideally, you should pick up your groceries (be sure to use a list, otherwise you will find you have forgotten important ingredients) a few days before hand – or even the weekend before if you have a chunk of time to do it. Also — try planning your menus around what is on sale. This is one of the ways that freezer cooking will save your grocery budget!
Pre-Prep:
Don't forget that pre-cutting veggies can save you LOTS of time on your cooking day!
Also any meats that you can cook before assembling your meals do it ahead of time. If you have 5 meals that require a pound of ground beef each — cook 5lbs together! It only takes a couple more minutes to cook 5lbs than it does one pound.
Know what you are having for dinner tonight!  You are going to all this work to eliminate the need to go grab a quick fast food meal, plan something that you can eat on your cooking day.  You will be tired and you don't want to give in to the take out temptation.
Then Get To Work:
Crank up the music, turn on a movie and put on your comfy clothes and apron and SENSIBLE shoes!! Start with a clean work space. Be sure you have hand towels.  Got your storage supplies ready?  Okay, ready, set, go……
I like to cook my meals in stages. Start with beef meals and then move onto chicken, and lastly vegetarian meals. Anything you can do at the same time, do it!  If you are cutting up chicken in 3 meals, do it all at the same time.
Try to clean up as you go, but don't be alarmed at the big mess you will be making.
It is a lot of work while you are in the process — but just think of all the time you will be saving during the month and how much money you can save by always having something available so you can avoid the expense of the last minute take-out.
Here are a few of my family's favorite recipes from freezer cooking:
Chicken Tetrazzini
10 oz. dry spaghetti — (10 to 12)3 cups grated cheese – Jack or Cheddar
3 Tbsp. margarine
1 1/2 cups finely chopped onion
1 can cream of mushroom soup — (10 3/4 oz)
1 can cream of chicken soup — (10 3/4 oz)
1 (10 3/4 oz) soup can milk
3 cups cooked diced chicken
salt & pepper
Cook spaghetti as directed until al dente; drain. Sauté onions in margarine.
Mix onions and remaining ingredients with spaghetti in a large bowl. Put
mixture in containers and freeze. To prepare for serving, thaw tetrazzini
and put in a baking dish. Bake uncovered in a preheated 350* oven until
bubbly, about 30-40 minutes. For 2 people makes 5 casseroles.
Sweet and Sour Chicken
1- 8 oz. Fat Free French Dressing
1- 8 Oz. can Jelly (whole)cranberry sauce
1 package – Dried Onion Soup Mix
4 Boneless Chicken Breasts (you can add more or less – cut into cube pieces)
To freeze: Dump all ingredients into 1 gallon Ziploc freezer bag. Lay flat
in freezer.
To cook: Mix all ingredients in a 13 x 9 glass pan. Cover with tin foil.
Bake 350 degrees for 45 minutes. Stir and serve over rice or noodles.
note: I like to add a bunch of stir-fry veggies in the bag when I
freeze this. They cook well in the sauce, and add a lot more nutrition to
the meal. (Plus, I don't have to bother with a side dish this way!)
Chicken Enchiladas
(Freeze the tortillas separately for this easy dinner)
2 cans cream of chicken soup
1/2 pint sour cream
pinch garlic powder
1 can diced green chiles
3-4 chicken breasts, cooked and diced
1 dozen flour tortillas
grated Monterey Jack cheese
Mix first 5 ingredients together in a large bowl. Spoon into a 1 gallon
freezer bag and lay flat to freeze.
To prepare: Thaw sauce and tortillas. Spoon a bit of the chicken mixture
into each tortilla. Roll up and place side by side in a 9 X 13 baking pan.
Pour remaining mixture over enchiladas and sprinkle with cheese. Bake 30
minutes at 350 degrees.
Enjoy!