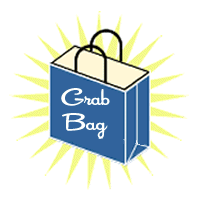 Here's a compilation of lots of free samples, magazines and other freebies available right now. Thanks to Kaley from Cha Ching on a Shoestring for her help in rounding up all of these freebies for you:
Free Samples
Arm&Hammer Toothpaste and Dove Hair Care
True Lemon, True Lime, and True Orange
Stayfree Pads with Thermo Control
Free Food
Einstein Bros: Free Bagel Fridays through 5/22
Free after Coupon/Rebate
$1/1 Sugardale Product Coupon = Free Hot Dogs
Free Tote Offer from Rite Aid and Real Simple
Target: Free Scrubbing Bubbles Toilet Products
Kmart: Free Infusium 23 and Motrin PM
Miscellaneous
Summer Reading Programs = Free Kid's Books
More Free Stuff from Lane Bryant
Blockbuster Express: Free Rental Code
E-Mom Rewards: Freebies for Signing Up (Possible Free Robeez Shoes!)
Kodak: 20 Free Birth Announcements plus S/H
New Codes for Huggies Rewards Program: 2 Points
Happy Friday!