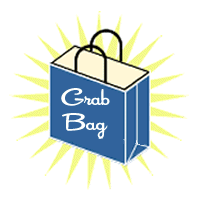 Here's a compilation of lots of free samples, magazines and other freebies available right now. Thanks to Kaley from Cha Ching on a Shoestring for her help in rounding up all of these freebies for you:
Free Samples
Free Samples: Emergen-C and Teekane Herbal Tea
Free Everlast Energy Bar at GNC
Free sample of Post-it Durable tabs
Free sample of Ivan Mog's Gourmet Apples
FREE NasaDock® STAND, NasaMist® or NasoGel® Products
Free Atkins Diet Kit and Red Zone Sample
Free Organic Note Pad OR Organic Hand Sanitizer
Free samples of Migraine Medicine, Baby formula and more.
Free Food
Free Taco Fresco with Drink Purchase at Taco Bell
Free Box Combo at Raising Canes
Pilot Travel Centers: Free 16 oz. Hot Beverage
Del Taco Fan Club: Free Soft Tacos and a Free Birthday Milkshake!
Miscellaneous
Pampers gift to Grow: Ten Brand New Points
Huggies Enjoy the Ride Rewards Codes: 8 More Points
Huggies Enjoy the Ride Rewards Code Worth 5 Points
Free Coupons
Home Depot: Sign Up for Savings
Free $17 in Coupon Savings from Conagra
Free Music Downloads
Free Music Download: Biggest Loser Workout Mixes
Free After Coupon
Walgreens: More Free Neosporin Lip Health Products
Free After Coupon: First Aid Kit, Visine, Buddies Bar and Wonka Candy
Target: Free Trial-Sized Band-Aids