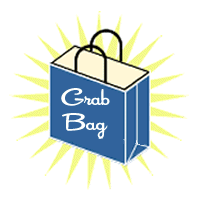 Here's a compilation of lots of free samples, magazines and other freebies available right now. Thanks to Kaley from Cha Ching on a Shoestring for her help in rounding up all of these freebies for you:
Free Samples
Facebook: FREE Sample of Quaker Oatmeal Squares
Send a FREE Kind Bar to Two Friends
FREE Sample of Honey Nut Cheerios
Free Food
Eat a Free Meal at Chick-Fil-A on 7/8
Food Deals: Arby's, PF Chang's and Barnes & Noble
Chili's Coupon | Free Chips and Queso
Free Ebooks
Free Best of Betty Crocker 2011 Summer Ebook
Free Kindle Books: Day of War, Never a Bride and Through The Fire
Miscellaneous
My Habit Coupon Codes for $25 off Your Order + Free Shipping
Blockbuster Rental Express Codes | 17 of Them!
Pampers Gifts To Grow Code Worth 10 Points
Reminder: Free Couponing Webinar 7/10 and New Date Available
Facebook: 100,000 FREE Glasses from Coastal Contacts!
Giveaways