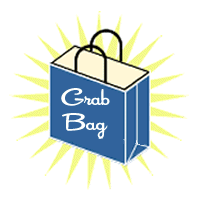 Here's a compilation of lots of free samples, magazines and other freebies available right now. Thanks to Kaley from Cha Ching on a Shoestring for her help in rounding up all of these freebies for you:
Free Samples:
Free Sample of Miracle Skin Transformer
It's Dora The Explorer Birthday: Freebies and Deals Available
Free Bic Easy Glide Pen (1,000 Every Day)
Free Post-It Durable Tabs and Label Pads Sample
Free Food:
Free Frutista Freeze Drink at Taco Bell
A&W: FREE Root Beer Float! (Facebook Offer)
Kraft First Taste: Possible Free Kraft Homestyle Mac & Cheese Dinner
Cold Stone Creamery, Marble Slab, and Friendly's: Free Ice Cream on your Birthday!
New Buy One Get One Free Starbucks Coupon
Free after Coupon:
New $0.75/1 Starkist Tuna Coupons
Facebook: $1/1 Rayovac Coupon has Re-Set (Possibly Free at Target!)
Hot $1/2 Bic Product Coupon= FREE at Target and Cheap at Walgreens
Kmart and Walmart: Free Super Sticky Post Its
Miscellaneous:
Free Organic Valley Farm Friends Welcome Kit (with Coupons!)
Free Two Year Subscription to Bridal Guide
Free Insulated Lunch Tote from Earth Fare
Huggies Enjoy the Ride Rewards Code: Add 5 Points
Happy Friday!