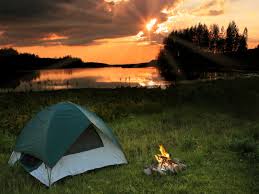 Staycations are quickly becoming the popular alternative to traditional vacations. They're a great way to save money, yet still relax and have fun with the fam!
While a staycation may not be as exciting as jetting off to an exotic locale, but you can still have lots of fun! Get ready for your staycation by planning a few fun activities.
Here are a few staycation ideas to get you started…
Camping
Pack up the tent and some supplies and head to your nearest campground during your staycation. Camping is an amazing way to unwind, and it costs next to nothing, if you already have most of the supplies. Not interested in hitting a busy campground? Pitch the tents in your own backyard!
Community Calendar
You can often get at least a few staycation ideas by looking at your local community calendar. Most areas offer cheap and free activities all year.
Be a Tourist
Chances are there are at least a couple tourist attractions in your town or a neighboring town. Check your local rest stops or visitor centers for free brochures on activities in your area.
Get Gaming
Getting everyone together for a game tournament is a great way to kick off your staycation! Play some outdoor games when the weather's nice, and head indoor for some board games or video games when it gets dark or rainy. You can even hand out prizes for the winners!
Bike Rides
If the bikes are collecting dust in the garage, dust them off and get moving! Take a long bike ride through your neighborhood, town, local bike trail, or state park.
State Parks
State parks and national forests offer tons of staycation ideas and activities, including hiking, fishing, swimming, boating, and camping. Admission to most government parks and forests is also usually free or super cheap, depending on your location and what time of day you plan on visiting.
Theater
Does your town have a local theater company or university? Take a look at the event calendar and catch a show during your staycation. These productions are often relatively inexpensive and lots of fun!
Sightseeing Cruise
One of my favorite staycation ideas is a local sightseeing cruise. The lake town next to us has several daytime cruises on some beautiful boats. Basic cruises that last a couple hours start at around $9. More involved lunch and dinner cruises can be more expensive.
Barbecue 
Some of the simplest staycation ideas are the most fun! If you just want to stay home and relax during your vacation, just fire up the grill and invite a few friends over. You can even make it a potluck so you don't go broke feeding a crowd. Don't forget to invest in foil and paper plates, so you don't spend your entire staycation doing dishes!
Feel free to add your own staycation ideas in the comments below!
.