While I was putting away my Newman's Own Alfredo sauce and salsa after one of my Tops Markets trips, I noticed something interesting on the lids…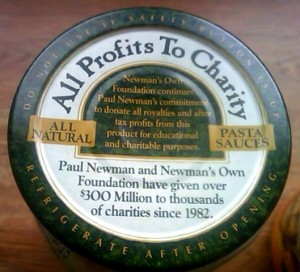 Now, call me oblivious, but I never knew this!
Many of you probably already knew this, but do you know the story behind it? I didn't, so I did a little digging, and found that it's quite an interesting story…
According to a NY Times story, Paul Newman took quite a ribbing from a longtime friend when he asked for the ingredients to make his own salad dressing at a restaurant. Talk about a picky eater!
Some time later, around the holidays, the two friends got the brilliant idea to make a huge batch of Newman's own salad dressing in a bathtub and bottle it in wine bottles. Not surprisingly, this was done after downing a few tasty libations. I really wish I would have been there when that light bulb went off…
It gets better, however. After bottling their homemade bathtub dressing in (presumably used) wine bottles, they took to the streets and went Christmas caroling. Lucky neighbors got bottles of the bathtub dressing. Yum…
The dressing became so popular where Newman lived, that it was eventually being sold in gourmet shops in the area. A Boston steakhouse later became interested in bottling the dressing.
Apparently the name Bathtub Dressing wasn't quite catchy enough, so they decided on Newman's Own. Using the Newman name and his face to market the dressing, it quickly became popular nationwide. We now have Newman's Own pizza, pasta sauce salsa, skillet meals, and even wine.
But, why do all of the profits go to charity?
Because the business actually started as a lark. Newman had no desire to make any money from the experiment, since he realized that life had been good enough to him. He reportedly once stated "Once people said, 'You're going to have to put your face on it,' I decided that was tacky enough."
Even after his death in 2008, the Newman's Own company still continues to produce all sorts of culinary goodies. And, still to this day, all profits from Newman's Own products go to charity.
I feel bad now for passing up Mr. Newman's products in the past, simply because they had his face plastered all over them. I thought it was – well,  tacky. Now that I know that my purchase is going to a great cause, though, I'll probably start purchasing more Newman's Own products.
What about you? Did you know the whole back story about Newman's Own products?