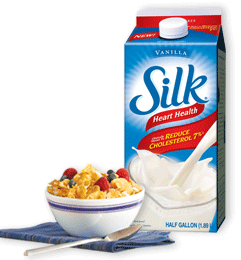 If you have been reading this blog for a while you know that I love milk.  If you have been reading this blog for more than a year you know that I made a big deal last year when Silk Soy milk issued a couple of high value Soy Milk printable coupons.  And that is because not only do I love soy milk but I love love Silk soy milk.  If you have never tried soy milk because you are afraid of its taste, let me tell you there's nothing to fear.  I personally love soy milk for it's nutty and sweet flavor.
Silk Soy Milk recently introduced Silk Heart. According to a clinical study conducted by Silk Soymilk in 2008, drinking Silk Heart Health can help reduce cholesterol 7% in just 4 weeks.
Register with Silk soy milk and you will get emailed a coupon for $0.75 off one half gallon of Silk soy milk.  Or you can click here to print a coupon for $0.55 off one half gallon of Silk Soymilk.
Right now ten of my readers will have chance to win one coupon for a free gallon of Silk Soymilk as well as a pedometers.  In this quick 48 hour giveaway, all I am asking for you to do is:
1) Leave a comment in this post sharing your favorite healthy breakfast option.
This giveaway is open to residents of the United States only. Please enter only if you are 18 years or older. This giveaway ends 11/7 at 5PM CST. At that time I will select TEN winners using Random.org and will contact them. If after 48 hours after contact I don't hear from them I will select another winner at random. Good Luck!
Disclosure:  Thanks to Silk soy milk for sponsoring the giveaway of these coupons and pedometers.  I was not compensated for posting this giveaway or provided any free product. I was only provided the information available on Silksoymilk.com
.  My thoughts on soymilk are honest and all mine 🙂