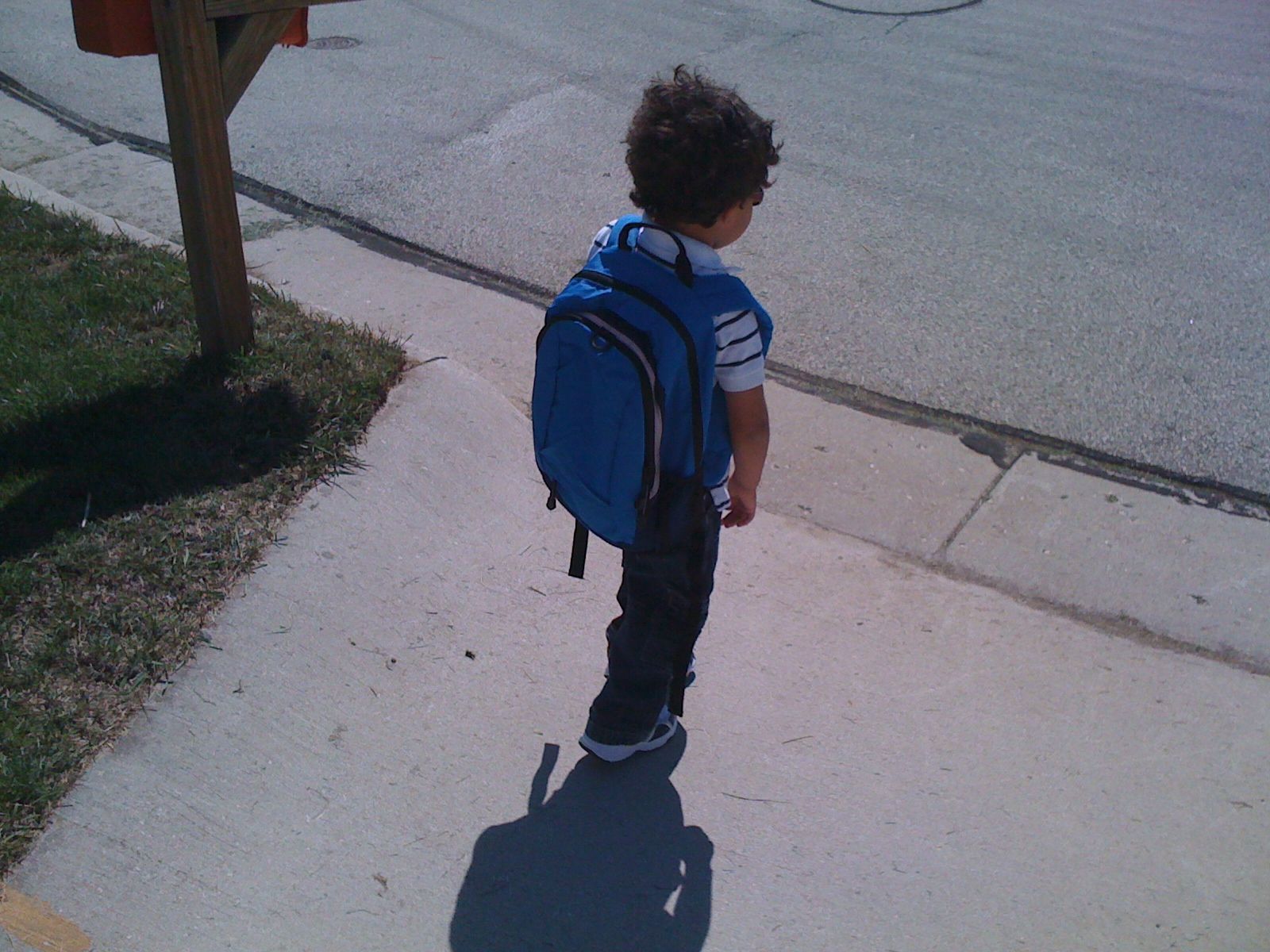 Last Tuesday was my four year old's first day of 4K. I really can't tell you how excitedly he had waited for this day. We literally counted down to this day for the past four weeks. He just couldn't wait. The week prior, we attended the school's open house. We were all excited to see his room and to meet some of his new classmates.
When the day came for him to start School, I have to confess, I was not anxious or nervous. Neither was he. He was so ready. He changed into his clothes, brushed his teeth and hair, and was ready to go!
His classes are in the afternoon and my husband came home from work to take him to school on his first day. I was so happy to see him go. Not because I would be getting a break, but because he was so excited to start this new adventure. And I think that's such a gift: to be excited about new experiences instead of anxious or worried.
I must admit that as happy as I was to see him go, as pick up time drew nearer, I couldn't wait to find out how his day had gone. I put his little brother in the car seat, and together drove to the school to get him. He was happy to see us and I gave him the biggest hug. It had only been three hours but I had missed him so much. Of course, when I asked what he had done in school he said "I don't know." But with a bit of patience on my part, and excitement to share on his, he let me know he had made new friends and he had painted with crayons and had a snack at school.
I am so proud of him and I know that there are so many good things waiting for him in his new school. I am so thankful I have been given the opportunity to be there for him and provide him encouragement when he needs it. He has now asked if he can ride the bus to school and he will be getting that experience as well. He even requested that we are not in his school at the time the bus drops him off there. He wants to go through this alone. We will be there at least the first time, or as many times as he needs us to be.
Because we could all use some encouragement at times, Hallmark has graciously sponsored the giveaway of a $50 Gold Crown Gift card on this blog. You can use this gift card at any Hallmark store to buy greeting cards or gifts available there.
What do you need to enter this giveaway?
1) Leave a comment on this post sharing how your children (or nephew or niece or loved child in your life) did on his first back to school.
For additional entries you can
Share this on Twitter using the following line:
Share how your child's first day back to school went and enter a chance to win a $50 Hallmark GC https://bit.ly/13JGha #hallmark
Share how your child's first day back to school went and enter a chance to win a $50 Hallmark GC from Common Sense with Money https://bit.ly/13JGha
If you have your own blog you can also share with your readers about this giveaway. Just make sure to link back and leave a comment with the link so I can verify this.
This way you can earn up to four entries. Just make sure to leave a separate comment if you decide to share this giveaway with others. If you are reading this entry via email updates or via RSS reader please click through this entry and visit my blog to enter. Emailing me is not a valid entry for this giveaway. This giveaway is open to residents of the United States only. Please enter only if you are 18 years or older. This giveaway ends 9/13 at 9PM CST. At that time I will select the winner using Random.org and will contact that person. If after 48 hours after contact I don't hear from them I will select another winner at random. Good Luck!
Going back to school is an exciting, fun and sometimes, hectic time. To calm the butterflies and build your kids' confidence, Hallmark has put together this great resource to encourage moms like you. Just for sharing a bit of advice, you'll be entered to win a prize package valued at $500! Check it out.
Thanks to Hallmark for sponsoring this conversation and giveaway.