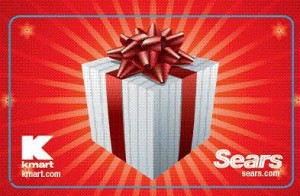 Last year I had the opportunity to help sponsor a family's Christmas. This year I am happy to report that I was able to do the same this year thanks to the help from Sears.  Sears sent me a $200 gift card to check out its convenience.  See, you can actually use ONE Sears gift card in six different places.  You can use it at Sears, Kmart and Land's End stores as well as online.  That's six different places PLUS the gift card never expires and there are no fees attached to the card.
So, I took this card and used it to buy gifts for a family in need.  I got in touch with my local Salvation Army and got a wish list for a family of five: Mom, Dad and three boys.  I figured I had $40 to spend per person and let me tell you I did very well.  I started my shopping from the comfort of my own home.  I bought two items of clothing for the Dad and one item of clothing plus a perfume for the mom on the Sears website.  For the boys I decided to visit my local Kmart.  I took advantage of toy sales and coupons and was able to buy toys for all three kids.  Plus the pajamas were 40% off so each child also got a pair of pajamas.  I did so well in fact that I had $4 left on the card and I used it to buy this winter hat for myself on the Land's End website last night.
Win It!
Right now, Sears wants to help two of my readers round up the rest of their holiday shopping by sponsoring the giveaway of two of these Sears/Kmart/Land's End gift cards with a value of $50 each.
There are four ways to enter this giveaway:
1)  Leave a comment sharing where of all six choices you think you would spend this gift card if you were to win it.
2)  Follow me on Twitter and tweet the following:  "I just entered to win one of two $50 Sears GCs, you should  try your luck too, click here https://bit.ly/4uO5Oz via @commnsensemoney"
3) Become a Facebook Fan of Common Sense with Money and share this with your own Facebook Friends  "I just entered to win one of two $50 Sears GCs, you should  try your luck too, click here https://bit.ly/4uO5Oz"
4)  Share about this giveaway with your own blog readers.  Remember to leave me a separate comment sharing the link to your post.
This way you can earn up to four entries. Just please remember to come back and leave me a separate comment for each additional action you have taken (leave comment, share on Twitter, share on Facebook, etc).
If you are reading this entry via email updates or via RSS reader please CLICK HERE to visit my blog to enter. Emailing me is not a valid entry for this giveaway. This giveaway is open to residents of the United States only. Please enter only if you are 18 years or older.  This giveaway ends on 12/18 at 9PM CST.  At that time I will close the giveaway and select two winners randomly.