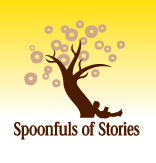 Over the past seven years, Cheerios Spoonfuls of Stories has given away more than 35 million children's books by distributing them free inside cereal boxes and has donated nearly $3 million to First Book, their non-profit partner, which provides books to children from low-income families.
In addition to encouraging children to read, Cheerios is looking for anyone interested in writing children's books. Now in its third year, the Cheerios Spoonfuls of Stories New Author Contest is a way to encourage previously unpublished, up-and-coming children's book authors and to continue to nurture a love of reading. Entries are being accepted March 16 through July 15, 2009 and will be judged on appropriate story and content for children ages 3-8, emotional connection, writing quality, uniqueness, and read-aloud potential. More details on the contest can be found at www.spoonfulsofstoriescontest.com.
I received four copies of some of the books distributed by Cheerios from MyBlogSpark and one of them was from the winner of the first year the contest ran.  The book is "The Great Dog Wash."  The book is both in Enlgish and Spanish and it's easy for you to read in Spanish even if you don't know any.  But our favorite by far is "When Dinosaurs Came with Everything."  The story is so much fun and my four year old has truly loved it as it is one of our favorite reads right now.  I have one set of these books to read to giveaway.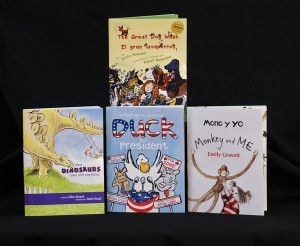 All you need to do to enter this giveaway is:
Leave me a comment sharing what you child's favorite book to read is or if you don't have any children which book was your favorite read when you were a child.
Please remember to leave your name and email address in your entry. I need to have a way to contact the winner. Entries with no contact information will be considered invalid.
This giveaway ends Thursday May 21th at 9 PM CST. At that time I will select one winner at random using Random.org. The winners will be contacted and will be given 48 hrs to contact me back with their mailing address. If I don't hear back after that period of time I will select another winner randomly.  U.S. addresses only please.