When you think Crocs shoes, chances are very good you think Crocs Cayman. That's what I thought of too for the longest time, until very recently. Back in April I was lucky enough to win a giveaway for a Crocs Gift certificate on another blog. With this certificate in hand I stopped by the Crocs website to check out their models and WOW! let me tell you, I was in for a surprise. Have you looked at the new models from Crocs? They are so cute! Choosing was definitely hard but I ultimately settled for a nice pair of Celestes. I wanted a pair of comfortable shoes I could wear throughout this pregnancy and beyond.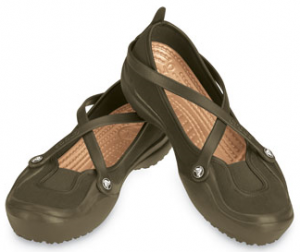 But while I looked for those I saw other models that tempted me a LOT! In particular I wanted a pair of Malindis in turquoise. However, I was heartbroken to find out they were already out of that color online. Then I did something completely unlike me. I decided to treat myself to a cute pair of crocs in a cute color. You see, I mostly own black or brown shoes and for me to get a pair of colored shoes is not what I would normally do. I searched high and low for the Turquoise Malindis without any luck. Then in a visit to a Chicago mall we walked by a kiosk selling Crocs and found my shoes. Not the Malindis but this pair of Crocs Olivia in red.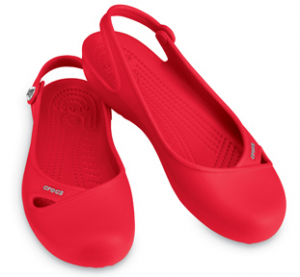 and I love them! I love the color and they are so cute and feminine. The picture doesn't show it very well but they have a sparkly charm on the side that adds just the perfect amount of "bling.". They make me feel very Dorothy from the Wizard of Oz.
I am ecstatic to share that Crocs is sponsoring a $50 Crocs gift certificate giveaway here on Common Sense with Money. Yeah! one of you will have a chance to try one of Crocs' new cute and trendy designs for FREE. All you need to do to enter this giveaway is:
1) Visit Crocs.com and check out the all of the cute designs. Then come back and share which one model and in which color you would get if you won this giveaway.
2) For up to three additional entries, share this giveaway with others on your blog, Facebook or Twitter.
Please make sure to separate comments if you decide to share this giveaway. Each comment is considered an entry and if you share you could earn up to 4 entries that way. This giveaway ends 7/3. Open to U.S. Residents 18 and older please. I will pick one winner and contact him/her at the time the giveaway ends. If after 48 hrs they don't contact me back I will select another winner.
Not that I wanted to tempt you but in case you may feel tempted *grin*, Crocs is currently offering free shipping with code july4 (case sensitive). And remember this deal? My son is now the proud owner of a pair of Bob the Builder Crocs.
Good Luck!