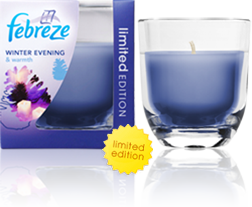 One of my favorite coupons last year was the coupon for $5 off Febreze Noticeables.  Even though at the time I was "getting paid" to buy other air refresher brands I had heard really good things about Febreze Noticeables and wanted to give them a try.  We have two small dogs and I am always fretting that my house smells like dog.
I am glad I gave Febreze Noticeables a try.  The scent is more subtle and long lasting than other brands.  So when I was offered a chance to try Febreze candles I jumped on it.  Febreze candles also provide a subtle scent that spreads throughout the room.  This is something I really appreciate since overwhelming smells turn me off.  Not only will the candle help rid of odors but it will also provide a nice warming ambiance to your home.  It comes in five scents and provide up to 30 hours of burn time.
I have the chance to give two of these candles away.  There will be two winners to this giveaway.  All you need to do is leave a comment with your name, email address once.  Comments without contact information will be considered ineligible and deleted.  This giveaway is open to U.S. residents only.  This giveaway ends 1/7 at 9 PM CST.  At that time I will select the winners.
Good luck!