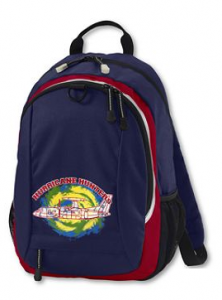 My oldest is starting 4K in less than two weeks.  When I finally got his list of school supplies I became a little worried because the list called for him to bring a "regular sized backpack."  The last thing I wanted was for my son to look like a turtle and be burdened by a large sized backpack.  That's why I was very happy to find out that Land's End makes their backpacks with different child ages and sizes in mind.  They have backpacks for toddlers (2T-4T), little kids (4-7 y.o.) and big kids (8-20 y.0).
I mentioned at the beginning of the back to school shopping season that I planned on investing on a good quality backpack that would last my son for a while.  While I am HUGE on bargain shopping I understand the value of quality products and how something cheap can ultimately end up costing you more.  Priced at $19.50 the Land's End Small Haul backpack my son will be sporting to school is an amazing value.  But you know what?  the best part is that I know that with Land's End my customer satisfaction is Guaranteed. Period.® That's right! this is what their policy states: "If you're not satisfied with any item, simply return it to us at any time for an exchange or refund of its purchase price."  And they mean it!
I can't tell you how happy my boy is to be walking around carrying his empty backpack and how he is counting down the days to start "Blue School" as he calls  (the school has a distinctive blue roof).  But I am just as excited to have been able to get in touch with Land's End and thankful to have them sponsor this giveaway.  Thanks to Land's End one of my readers will have the opportunity to win a Land's End backpack (any model of his or her choice under $69.50 value).
Because all of these giveaways have had a back to school theme, how about we mix it up this time?  Instead of thinking of a back to school memory or what not we focus on ourselves.  What I want you to do to enter this giveaway is:
1) Visit Land's End.com and look around, then come back and leave me a comment sharing which Land's End item YOU would like to add to your fall wardrobe.  Since this baby is due right at the beginning of the fall I would love a loose wrap like this one.  Besides keeping me warm in style, for an added bonus it would also make breastfeeding in public more discreet and easier.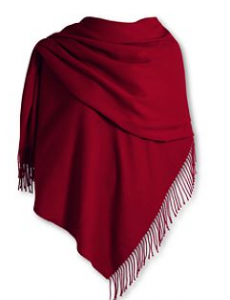 For additional entries you can
Share this on Twitter using the following line (just copy/paste):
Win a Land's End Backpack for Back to School  (via @commnsensemoney) https://bit.ly/9EFvA
Win a Land's End Backpack for Back to School from Common Sense with Money https://bit.ly/9EFvA
If you have your own blog you can also share with your readers about this giveaway. Just make sure to link back and leave a comment with the link so I can verify this.
This way you can earn up to four entries. Just make sure to leave a separate comment if you decide to share this giveaway with others. If you are reading this entry via email updates or via RSS reader please click through this entry and visit my blog to enter. Emailing me is not a valid entry for this giveaway. This giveaway is open to residents of the United States only. Please enter only if you are 18 years or older. This giveaway ends 8/30 at 9PM CST. At that time I will select the winner using Random.org and will contact that person. If after 48 hours after contact I don't hear from them I will select another winner at random. Good Luck!
This giveaway is now closed.
This giveaway and the blue SmallHaul backpack my son will proudly wear to school are graciously sponsored by Land's End.