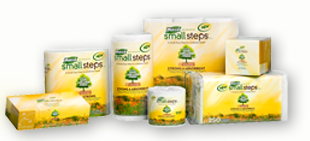 As a person of a frugal, one of the first things I did to save money was to invest on a lot of towel rags for use in the kitchen.  However, I must admit that my home is not 100% free of paper towels.  As a person of a somewhat green mind, one thing I have done to "green" my use of paper towels is to use paper towels made from recycled paper not trees.
Marcal Small Steps products are made from the recycled paper collected in residential neighborhoods, office buildings, etc.  Marcal Small Steps takes something that may otherwise end up in landfill and turn it into something needed and useful to many.
Get it for Less, Possibly Free
The first time I tried Marcal Small Steps Products was back in late summer when I got them for free during a Kmart double Coupon event.  And well, it's very easy to get them free since Marcal Small Steps often puts out coupons that make the single rolls free at many stores.  You too can get the single rolls for free by using the coupon that was in the Sunday newspaper from January 3rd, 2010.  If you did not get these coupons then maybe last week you printed the coupon for $1.25 off one pack of napkins that was available on Smartsource.  That should make the packs less than a dollar with a sale.  The coupon is not available now but hopefully they will release more coupons again soon.  If you are wondering what store near you carries Marcal Small Steps make sure to use the Store Locator tool on their website.
Win It!
Marcal Small Steps wants to give one of my readers the chance to give their products a try and has sponsored the giveaway of a Home Starter Pack.  The Winner of this giveaway will get one of each of the following Marcal Small Steps Products:
Dinner Napkins
180ct Napkin Drawstring Bag
Upright-80ct Facial Tissues
144ct Facial Tissues
Single Roll Giant Towel
1,000ct Bath Tissue
4 ct Bath Tissue 1000 ct
3 roll Regular towel
As you can see, the winner will get to try a wide array of Marcal Products.  How do you enter this giveaway?
1)  Leave a comment sharing  the small steps you have taken to become a "greener" person in your life.
2)  Follow me on Twitter and tweet the following:  "just entered to win a Marcal Small Steps Home Starter Kit https://bit.ly/6OztxM via @commnsensemoney"
3) Become a Facebook Fan of Common Sense with Money and share this with your own Facebook Friends  "I just entered to win a Marcal Small Steps Home Starter Kit https://bit.ly/6OztxM"
4)  Share about this giveaway with your own blog readers.  Remember to leave me a separate comment sharing the link to your post.
This way you can earn up to four entries. Just please remember to come back and leave me a separate comment for each additional action you have taken (leave comment, share on Twitter, share on Facebook, etc).
If you are reading this entry via email updates or via RSS reader please CLICK HERE to visit my blog to enter. Emailing me is not a valid entry for this giveaway. This giveaway is open to residents of the United States only. Please enter only if you are 18 years or older.  This giveaway ends on 1/16/2010 at 11AM CST.  At that time I will close the giveaway and select two winners randomly.
Marcal provided me with a home start kit  for myself as well as another kit to giveaway  for my participation in this promotion.