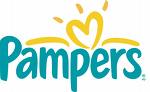 I am helping Pampers spread the word about their "One Pack = One Vaccine" campaign.  this is a global initiative with UNICEF to eliminate maternal and neonatal tetanus (MNT), a preventable disease that claims the lives of approximately 128,000 infants and up to 30,000 mothers in less industrialized nations each year.  That's approximately one newborn
death every four minutes.
From February 5 through May 1, 2009, parents in the U.S. and Canada have the opportunity to help UNICEF protect moms and babies around the world against tetanus, by simply purchasing specially-marked packages of Pampers diapers and wipes.  Each product purchased, triggers funding for one life-saving vaccine. You can read more about this campaign here.
In the past I have used any points I accumulated in my Gifts to Grow account to donate to this campaign.  I want to give you a chance to donate points by giving you a chance to win a coupon for a FREE jumbo pack of Pampers Diaper.  All you need to do is just leave me a comment on this post.  This giveaway ends Friday 3/27 at 5PM.  So make sure to enter while you can.  After free food, free diapers is my favorite thing to give away.