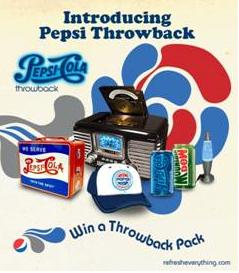 Have you checked out the new Pepsi and Mountain Dew Throwbacks? No, well then let me tell you that Pepsi is taking us back to the olden times when soda was made using natural sugar. It has been a while since soda is made using natural sugar here in the United States. Not in my home country though, sugar still reings supreme there. Which is why the throwback was just what I needed to get a taste and good reminder of the good things available back home. If you have not tried Pepsi or Mountain Dew throwback, you may want to act quickly. These products will only be available for eight weeks starting on April 20th.
To help you get back in the "groove" of things, I am giving away a Pepsi throwback Prize Pack valued at $150. What's in this prize pack you wonder? Here's the list:
Pepsi Throwback Trucker Cap
Retro Pepsi Tin Lunch Box
Retro Clock Radio/CD Player
USB Lava Lamp
Pepsi Throwback & Mountain Dew Throwback.
What do you need to enter this giveaway?
Leave a comment sharing what thing from the past you wish would make a comeback, maybe a fashion, hair style, favorite drink/snack long gone. Let's take a fun trip down memory lane together.
Share this giveaway with other on Twitter , Facebook or StumbleUpon.
Please remember to leave your name and email address in your entry. I need to have a way to contact the winner. Entries with no contact information will be considered invalid.This giveaway ends Wednesday 5/6 at 9 PM CST. At that time I will select one winner at random using Random.org. The winner will be contacted and will be given 48 hrs to contact me back with their mailing address. If I don't hear back after that period of time I will select another winner randomly. U.S. addresses only please.
If you are reading this in an email update or in your feed reader, you need to click through this post, visit my website and leave a comment on this particular post. Leaving a comment on this post is the only valid way to enter this giveaway.