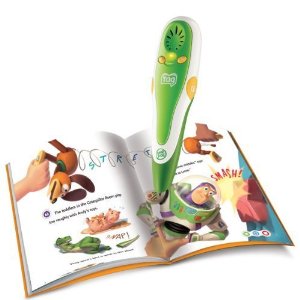 As some of you know I am a huge fan of Leapfrog products.  Over the past few months with their Tag. Give. Read Campaign, Leapfrog has been matching donations to Classrooms made by people like you and me.  To kick it up a notch, they now count with the support of "Access Hollywood" personality Jayneoni Moore.  She is launching a parallel program through The Jayneoni Moore Children's Fund, called "Tag, You're It!" and Leapfrog joining forces to go bigger and put Tag and books into the hands of even more kids.
Jayneoni and her celeb mom pals have been buying Tag Readers to give away to classrooms in need, and their campaign will encourage others to do the same. To sweeten the deal, LeapFrog is giving 5 Tag books for each system donated to the cause. And on November 14th, all these moms and their little ones will gather at a "packing party," to turn what we hope will be a massive pile of donated product into individually boxed "Tag kits" for classrooms. And you could be there!
Win It!
Leapfrog is providing a Leapfrog Tag reader system and a U.S. Map to giveaway to one lucky reader. But the winner will also get a chance to win an all-expenses-paid trip to Hollywood to meet Jayneoni and her celeb mom pals at the "packing party."  LeapFrog will take care of all travel arrangements and expenses for winners, including transportation from home to the airport and back, transportation from airport to hotel, accommodations at The Peninsula Beverly Hills (where the "packing party" will be held), and incidental expenses for meals and refreshments.
To enter for a chance to win this Leapfrog Tag reader plus US Map just leave a comment under this post.
This giveaway is open to US residents 18 years and older.  This giveaway closes on 11/4 at 10pm EST.  Winner will be contacted via email. If you are reading this via email or RSS reader please CLICK HERE to enter this giveaway.  Emailing me is not a valid form of entry.
This giveaway is sponsored by Leapfrog. The winner of this giveaway will be entered for a chance to win trip to Beverly Hills.  However, travel is not required if unable to complete the trip.