Yesterday when I shared my Target deals I mentioned Smart food popcorn cluster snacks.  Really, what I mentioned is that they are a yummy snack. In case you haven't had a chance to check them out yet, SmartFood Popcorn Clusters are a filling snack that will satisfy your craving for something sweet without wrecking your daily caloric intake. Each serving has around 120 calories and 5 grams of fiber. Also you can't beat the flavors: Honey Multi-grain, Cranberry Almond and Chocolate Cookie Caramel Pecan.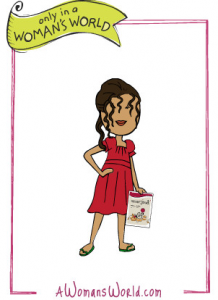 Previously, I also shared about Only in A Woman's World: a funny comic webseries depicting funny situations only a woman can appreciate.  One of the features of the website is that you can become like one of the girls and create your own avatar.  Check out the one I created for me.  I think she looks pregnant don't you?
Today I have a chance to giveaway one Woman's World Snack Pack including a bowl, Baked!, Flat Earth and Smart Food snacks, and a two month subscription to NetFlix for your winner.  The Netflix subscription sounds perfect and just in time for this summer.
All you need to do to enter this giveaway is:
Visit A Woman's World Website and create an avatar, it could be your own or it could resemble a celebrity.  Then come back and let me know you have done so.
This way you can earn up to 4 entries.
Please remember to leave your name and email address in your entry. I need to have a way to contact the winner. Entries with no contact information will be considered invalid.
This giveaway ends Thursday May 28th at 9 PM CST. At that time I will select one winner at random using Random.org. The winners will be contacted and will be given 48 hrs to contact me back with their mailing address. If I don't hear back after that period of time I will select another winner randomly.  U.S. addresses only please.