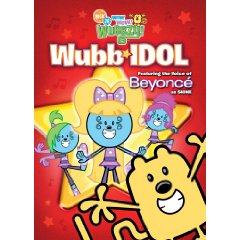 You are a Wubbzy Fan if:
a) Know what Kickety Kickball is
b)  Use the terms Kookie and Little Buddy often
c) Know who  Walden, Widget and Daizy are
d) Know and do all of the above and are not ashamed to admit it!
Can you just tell that we are HUGE Wow Wow Wubbzy fans here?  This is the evening treat for my kids and I sit right along with them to watch this cute little guy.
Yesterday was the release of Wubbzy's newest DVD: Wubb Idol.  Wubbzy, his best friends, Walden, Widget and Daizy, can't wait for the most popular girl group, The Wubb Girlz, to pay a visit to host the "Wuzzleburg Idol" talent show!  Everyone in town hopes to win the contest.  If Wubbzy can wow the judges, he'll get the chance to go on to Wuzzlewood and perform with Sparkle, Shimmer, and Shine. Beyonce Knowles lends her voice to the character Shine.
To celebrate to release of Wubb Idol, I have been given the opportunity to offer one of my readers the opportunity to win a very special prize-pack including the brand-new "Wubb Idol" DVD, two "Wubb Idol"-themed books from Scholastic and the new Wow! Wow! Wubbzy! Sing-A-Song CD that features the original song composed and performed by Ms. Knowles.
You really want to win this one for your little one to enjoy. The songs are super catchy. Last night I found myself singing the main song as I was putting my 22-month old to sleep and he started singing right along with me, so cute!
To enter this giveaway:
1) Leave a comment in this entry sharing what your child's favorite Wow Wow Wubbzy character is.  I love Daizy!  but my kids go nuts for Wubbzy of course!
For additional entries you can
2) Share this on Twitter using the following line (just copy/paste):
Come enter for a chance to win a Wubb Idol DVD and Sing a Song CD  (via @commnsensemoney) https://bit.ly/4l6NCl
3) Share this on Facebook:
Come enter for a chance to win a Wubb Idol DVD and Sing a Song CD from Common Sense with Money https://bit.ly/4l6NCl
4) If you have your own blog you can also share with your readers about this giveaway. Just make sure to link back and leave a comment with the link so I can verify this.
This way you can earn up to four entries. Just make sure to leave a separate comment if you decide to share this giveaway with others. If you are reading this entry via email updates or via RSS reader please click through this entry and visit my blog to enter. Emailing me is not a valid entry for this giveaway. This giveaway is open to residents of the United States only. Please enter only if you are 18 years or older. This giveaway ends 10/18 at 9PM CST. At that time I will select ONE winner using Random.org and will contact that person. If after 48 hours after contact I don't hear from them I will select another winner at random. Good Luck!
Stop by the Wow Wow Wubbzy website for even more fun activities for your child, including coloring pages, crafts and recipes.