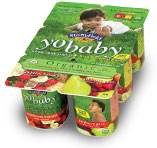 I mentioned earlier this week I am a HUGE fan of Yobaby products.  When my first one was getting closer to start eating solids, I started researching ways to save money on baby food.  That's how I came to the conclusion that making your own baby food with only the best ingredients is the way to go.  Unfortunately, I could not make everything at home. Even though we tried making our own yogurt, for our family it was just not practical.  I also knew that I wanted to feed my baby the best and turned to Yobaby for his needs.  Nothing changed with my second one and with this third one I am expecting, nothing will change either.
I love Yobaby because it's organic with six live cultures.  Plus it is made with real fruit and it is not too sweet.  When you open a container of Yobaby yogurt you realize that's how real yogurt should look like.  Yobaby yogurt is a brand I can trust that I know has nothing I don't want such as growth hormones and it has everything my baby needs.  It was also recently reformulated and it now contains Vitamin D and Zinc.  Yobaby yogurt is also sporting a new look.  Check it out here.  Don't forget that you can use these printable coupons to save money buying Yobaby products for your children.
I was so happy and honored to be contacted last week to give away Yobaby products on my blog because this is a brand I love, my kids love and I fully support. For this giveaway I have ONE Yo Baby prize pack containing:  a YoBaby bowl with lid, an organic YoBaby bib, and a bundle of 5 Free YoBaby coupons.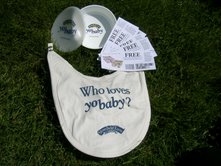 To enter this giveaway all you need to do is leave a comment sharing what your favorite Yobaby product is.  If you have not tried Yo Baby products yet (and you need to) share which one you would like to give a try (see all of their products here).  This giveaway ends Friday 6/19 at 9 PM CST.  U.S. residents 18 years and older only please.