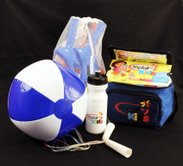 Did you know research has shown that fewer than half of all kids ages two to 12 get the calcium they need each day?  Calcium and Vitamin D are both essential nutrients for building strong bones.  Though it can be challenging for growing kids to get Vitamin D, since it is found naturally in very few foods, Yoplait for Kids makes it a little easier to incorporate a delicious source of Vitamin D and Calcium in your child's diet.  Your kids can try it for very cheap too, by using this coupon for $1.50/1 Yoplait kids cup or yogurt drink.
Thankfully both of my sons love yogurt. I have mentioned before my 4 year old loves the Yoplait Yo plus and he also has enjoyed Go Diego Go Yoplait Kids. Today I am giving away three Yoplait Get Active Prize packs. Each prize pack has a travel cooler (to take your Yoplait yogurt on the road), a jump rope, a water bottle and an outdoor game set that includes a beach ball, paddle ball, jai lai and a frisbee, perfect to ply outside in the summer!. The pack also has a coupon for free any of the Yoplait for Kids yogurt products (Go-Gurt, Trix, Yoplait Kids). Unfortunately this coupon is not valid in the states of Louisiana, Nevada, Idaho, New Jersey, North Dakota and Tennessee.
To enter this giveaway all you need to do is:
Leave me a comment sharing the types of activities you and your family do to stay active and healthy.
Share this giveaway with others on Twitter, Facebook or StumbleUpon. Don't forget to come back and leave me a comment telling me you have shared this with others.
This way you can earn up to two entries. Each entry must be made on a separate comment as each comment is considered a single entry. Please remember to leave your name and email address in your entry. I need to have a way to contact the winner. Entries with no contact information will be considered invalid.
This giveaway ends Wednesday 4/8 at 9 PM CST. At that time I will select three winners at random using Random.org. The winners will be contacted immediately and will be given 48 hrs to contact me back with their mailing address. If I don't hear back after that period of time I will select another winner randomly. U.S. addresses only please.