Shopping lists are definitely not my forte. See the problem is not that I don't write one, the problem is that I always leave it on the counter. I know, not very helpful that way. Luckily there is a new option available to build a shopping list online: Ziplist.  ZipList is a free online shopping list and recipe service designed to help shoppers get in and out of the supermarket quickly.
Here are the key features:
Share your list with anyone in your family so others can help you shop if they drop by the store.
Update or access your list anywhere: online at www.ZipList.com or via text message, email or IM. I can't wait for the iPhone app. This one will be a real lifesaver for me.
Sort your list by store or category to reduce back-tracking through aisles. I love this one because it saves me having to go back to sections of the store I have already visited for items that were at the bottom of my list.
You can also prioritize your list to pick up the most needed items. This is a real plus for the times when have suddenly ran out of milk or bread or if you have to cut a trip to the grocery store short due to a crying toddler in your shopping cart.
Search 100,000s of recipes, including over 10,000 that can be found online at MarthaStewart.com. But they also have recipes from Epicurious and Recipe Zaar. Plus you can add recipes you find on other websites.  I just added $5 Dinners to my recipe box.  Just click the "Add to List" button and all the ingredients are added to your list with a link under each ingredient back to that recipe.
-Save any recipe from across the web in a single recipe box at www.ZipList.com.
Win It!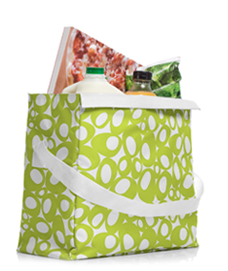 Ziplist has graciously sponsored the giveaway of five Gro-Pak Chil Insulated Bag from Blue Avocado (colors will vary) and one copy of Everyday Food: Fresh Flavor Fast (the newest cookbook from Martha Stewart).
This giveaway will have five winners and each winner will win one bag (groceries not included) plus Martha Stewart's newest book.
What do you need to do to enter this giveaway?
1) Leave me a comment sharing what 's the most often forgotten item on your shopping list.
For three additional entries you can:
2) Become a new RSS Feed or email subscriber to this blog.
3) Become a Facebook fan of this blog.
This way you can earn up to four entries. Just please remember to come back and leave me a separate comment for each additional action you have taken (leave comment, share on Twitter, share on Facebook, etc).
If you are reading this entry via email updates or via RSS reader please CLICK HERE to visit my blog to enter. Emailing me is not a valid entry for this giveaway. This giveaway is open to residents of the United States only. Please enter only if you are 18 years or older. This giveaway ends on 2/26/2010 at 5PM CST. At that time I will close the giveaway and select two winners randomly.