Update:  The Free coupons are all gone for now.  But you can still print a coupon for $1 off one pack which should make them just $1 each at Walmart and other stores.
I am excited to be able to host this giveaway this afternoon for 400 Fiber One Yogurt packs (one per person).  Please also note that this offer is void in the following states: CA, ID, LA,MN, NJ, ND, NV and TN. *sorry*  After all 400 coupons are gone you will be able to print a coupon for $1 off one Fiber One Yogurt.
Here's some useful information on Fiber One Yogurt provided by Yoplait: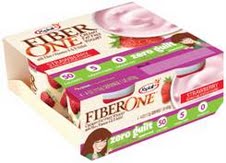 ·         Yoplait Fiber One 50-calorie yogurt is the only leading nonfat yogurt with 50 calories and 5 grams of fiber.
·         Available in four flavors – Strawberry, Vanilla, Peach and Key Lime Pie – Fiber One 50-calorie yogurt is a delicious snack that is good for you, contributes 20% of the recommended daily value of fiber and is a good source of calcium as well as vitamins A and D.
·         Instead of munching on boring lower-calorie foods, you can now snack with zero guilt on Fiber One yogurt, a tasty way to help watch waistlines and keep calorie counts in check.
·          Fiber One 50-calorie yogurt features a 'Hungry Girl Seal of Approval', the first nationally distributed yogurt to receive this endorsement.
·      Yoplait Fiber One 50-calorie yogurt is available in the yogurt section of grocery stores nation-wide
Disclosure: Yoplait sponsored this giveaway and provided me with the opportunity to giveaway 400 free coupons. I was no compensated in anyway to host this giveaway.