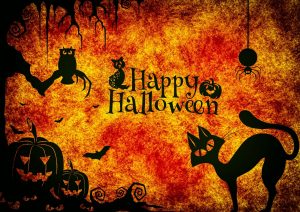 Image by Alexas_Fotos from Pixabay
Okay, I'm calling it. It is officially late enough in September to begin making Halloween goodies. Are you on board with me?  I have had enough stressful stuff going on, I say it's time for fun and sugar!!
I told my kids to start deciding what types of Halloween goodies they wanted to make this weekend and they did not disappoint. They came up with an awesome collection of fun Halloween recipes for kids and tasty goodies that should leave us in a fun sugar coma, with smiles on our faces. 
Fun Halloween Recipes for Kids
These Halloween Rice Krispie Treats are so much fun to make and even more fun to eat! I am a big rice krispie treat fan anyway, but add frosting and cute eyeballs and you have a Halloween winner! (hmmmm….maybe these aren't just kids treats after all). 
These Ghost Mini Muffins with fondant look pretty easy to make and they look delicious! I love the fact that you don't even have to do the baking if you don't want to! Just head to the store to buy your favorite mini muffins or cupcakes and add the ghostly decorations!
No baking to do, no ingredients to mix. Just grab your favorite snack sized Halloween candy and make these fun and tasty Halloween wreaths for a fun decorative Halloween that everyone will love. 
If your crew loves mummies, look no further than these spooky fun meringue mummy cookies! They are easy to make and will look great at your Halloween treat table! Oh, and guess what?! These cookies are low carb and sugar free so even those of us who have to steer clear of carbs and sugar can enjoy these. I don't know about you, but as a person with food restrictions, I am also careful to include recipes like this in case my friends with other food restrictions stop by to enjoy our Halloween goodies with us. 
Have fun making goodies, my friends!