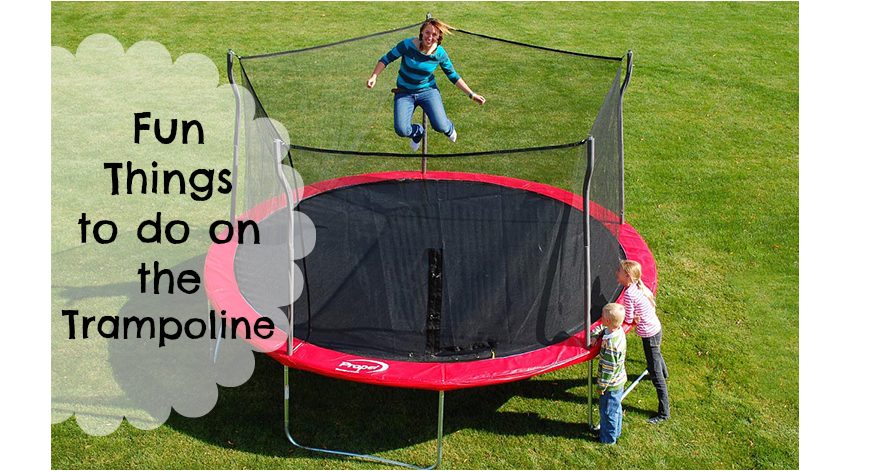 The weather is warming up and the trampolines are starting to come back out! In our case we bought a new one this spring since our last one had seen better days. So with our new trampoline set up the kids have spent lots of time out there jumping and practicing their "tricks". But there's so much more than just jumping you can do on your trampoline! I've put together some fun ideas you can do this summer on your trampoline!
Chalk – the trampoline is like a big huge canvas and with the dark background the chalk colors really stand out. This is one my kids have loved doing and it's easy to wash off.
Sprinkler – this was a childhood favorite I have my kids do and I'm sure lots of yours do it too. We'll attach a sprinkler head to the hose and put it under the trampoline for some water fun. I even love this idea of running a hose around the trampoline!
Soap – add some soap to your water fun to make it into a slip and slide. This is super fun, I just recommend you have a net for this one cause it can get really slippery.
Outdoor Movie – If you have a projector your trampoline net is the perfect place to hang a sheet and enjoy a movie night out back. Grab some popcorn, blankets, pillows, and you'll be set.
Campout – get adventurous and sleep on your trampoline. All you need is your blankets and a nice warm night.
Star Watching – this is another childhood favorite. My dad and I would have lots of great conversations while watching for shooting stars and satellites.
Ball Pit – Remember all the ball pits we grew up with? Make your own with your trampoline! The kids will love jumping into them and the net will keep them all on the trampoline.
Games – there's some fun trampoline games you can look up online or bring back the classics like duck duck goose, Simon Says, hot potato, crack the egg and dead man.