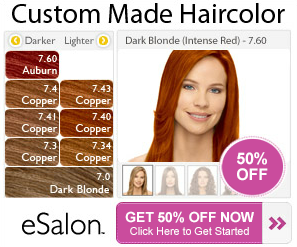 Finding that perfect hair color shade is never easy. With eSalon's custom hair color kits, though, the process just got a whole lot easier! And, new customers can get their first custom color kit for half off.
Just go to eSalon and follow these simple steps.
Click "Click Here to Start"
Create an account.
Answer a few questions about your hair color, hair care routine, ethnicity, and eye color.
Select your desired hair color.
Upload a photo of yourself (optional) and type in a few of your hair coloring goals.
And, that's it! A professional colorist will look at your order details and a custom hair color will be blended just for you. With the $4.95 for shipping, you'll only spend $14.90 on a perfectly blended custom hair color.