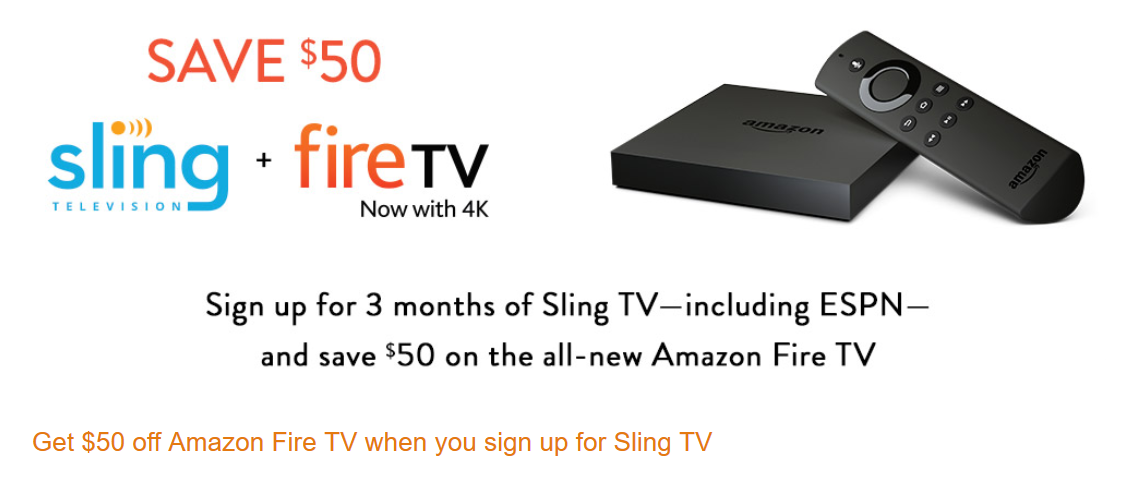 If you've cut cable (or want to in order to save $) you may be thinking about how you'll watch quality TV and keep from missing your favorite TV shows. A great answer is the Amazon Fire TV and Sling TV. They are a great deal and a great combination. And they are an even better idea now that the Amazon Fire TV is on sale and there is a promotion from Sling TV.
Here are the details from Amazon:
Sling TV delivers live TV—without the cable company—directly to your Amazon Fire TV. Get the best of live TV—sports, current shows, movies, and breaking news—instantly. No hidden fees, just a clear-cut monthly rate. And for a limited time, sign up for Sling TV for three months and get $50 off your purchase of Amazon Fire TV.
Get the best of live TV for $20 a month with ESPN, ESPN2, Disney Channel, ABC Family, Food Network, HGTV, Travel Channel, TNT, CNN, TBS, Cartoon Network, Adult Swim, Best of Maker, plus more channels to add on.
How to do it:
Sign up for your subscription on the Sling TV website and prepay three months of Sling TV service.
After signing up, you will receive a promotion code that can be used for $50 off Amazon Fire TV.
Copy the promotional code and add one Amazon Fire TV  to your shopping cart.
Proceed to check out. Paste or enter the promotional code in the "Enter a gift card or promotion code" field, click the 'Apply' button and complete your order.
When your device arrives, simply plug it in, connect to the internet, and start enjoying instantly.