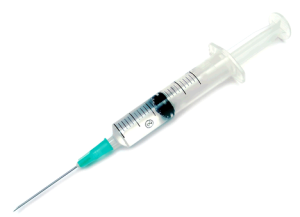 Flu season is here, and it's time to start thinking about getting your flu shot, if you haven't already. Generally, it's best to get the flu shot in the fall, but it's really never too late to get one.
Unfortunately, flu shots can be expensive for individuals without insurance. There are a few places you can look to get cheap or free flu shots, though.
Drug Stores and Retail Stores
Drug stores and many retail stores offer cheap or free flu shots every year. Drug stores generally accept insurance, Medicaid, and Medicare, which could get you free flu shots for yourself and family members. Even without insurance, flu shots from these businesses generally only cost around $30. Some businesses might also give you rewards or discounts on other merchandise in the store when you get a flu shot. Here are a few places to consider for cheap flu shots this year…
Costco – $15.99
CVS – $31.99 plus 20% off coupon for your next trip
Walgreen's – $31.99
Rite Aid – $29.99
Meijer – Costs $24.99
Wal-Mart – $23 – $28
Prices may vary in some areas and not all locations offer flu shots, though, so the best thing to do would be to call around and find out more about flu shot prices and any possible rewards you might get.
Hospitals, Clinics, and Medical Centers
Some medical organizations offer free flu shots during clinics for free flu shots during certain days of the year. Many medical organizations will also give reduced cost flu shots to low-income individuals who have no insurance. Call your local hospital, clinic, or medical center to find out if they offer this services.
Employers
In an effort to reduce the absentee rate during cold and flu season, many employers have begun to offer a couple different ways for their workers to get cheap or free flu vaccines. Employers may have flu clinics in break rooms or infirmaries on the premises, or they may partner with local businesses and issue flu vaccine vouchers. Contact your employers human resources department or health department to see if this service is offered.
Local Health Departments
There's a good chance that your state, county, or city health department is offering free flu vaccines to residents. Contact these departments to find out if there are specific dates for flu vaccine clinics or to schedule an appointment for a free flu vaccine.
Educational Institutions
Students young and old might be able to get free flu shots as well. Many college health centers, for instance, may give free flu shots to full-time students. Some elementary, middle, and high schools might also offer free flu shots.
Who Shouldn't Get Cheap or Free Flu Shots?
The flu is really a serious illness and should be treated as such. However, some people are more susceptible to contracting this illness or having complications from it. According to the Centers for Disease Control and Prevention (CDC), everyone 6 months and older should get a flu shot, especially young children, the elderly, and those with weakened immune systems.
However, there are a few exceptions to this. You shouldn't consider getting cheap or free flu shots unless you consult with your doctor if you:
have or have had a severe allergic reaction to eggs
have ever had a severe allergic reaction to influenza vaccine
have a moderate-to-severe illness (until you fully recover)
have a history of Guillain-Barré Syndrome
If you or someone in your household already has the flu or flu-like symptoms, make sure you take precautions to help prevent the flu from spreading though your home.