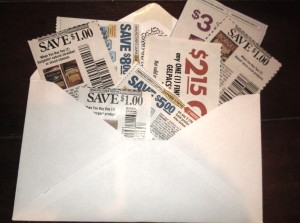 Printable coupons are great! They can help shave a bundle off of your grocery bill, and they're very convenient for most people. You can also usually find printable coupons for just about anything these days.
For some, though, printable coupons aren't the best solution. Some people may find them to be more of a hassle than they're worth, and others don't have a working printer. Printing pages and pages of coupons can also get a little expensive.
If you can't or simply don't want to print coupons, you can get coupons in the mail. This will help save printing costs and may be the only solution for individuals who do not have printers.
Here are a few different ways you can get free coupons in the mail.
Subscribe to the Sunday Paper
Subscribing to the Sunday paper is one of the best ways to get coupons in the mail. This is usually easier and cheaper than going out and buying the paper everyday or every week. Some newspapers allow you to get multiple subscriptions to the Sunday paper, so you may be able to get several copies of some decent coupons in the mail this way.
Before you subscribe to a Sunday paper, though, keep in mind that different papers and different regions have different coupon inserts and even different coupons. You may want to "test drive" a Sunday paper or two before you spend the money on a subscription.
Ask for Coupons in the Mail
Another great way to get coupons in the mail is simply to ask. If you're looking for a coupon for a specific product, contact the manufacturer directly. You send them a quick note via email or snail mail, or you can post a comment on their social media pages.
When writing to companies for coupons in the mail, there are a few different approaches you could take. First, you could praise their products. If you've had a recent bad experience with an otherwise great product, you might consider sharing this experience. Many companies are interested in keeping loyal customers and may send you some coupons in the mail to try to make things right.
Get Free Samples
Getting free samples is great, but you often get more than the samples in a package. Manufacturers will also usually send valuable coupons in the mail along with the samples. Sometimes they're coupons for the full-sized products that they sent samples of, but sometimes you might also get coupons for different products as well.
Be a Joiner
There are a few websites and companies that send you coupons int he mail just for joining their site. P&G Everyday is the one of the best websites to join to get coupons in the mail. You can get a booklet of coupons and a sample every few months.
You might also try joining websites and mailing lists of your favorite companies. You may even get coupons in the mail this way as well.
Pay Someone to Send You Coupons
While the buying and selling of coupons is generally frowned upon by manufacturers and typically voids a coupon, you can still buy them online. Actually, you can pay someone for the time that they spent gathering, clipping, handling, and shipping you coupons in the mail.
If you need single specific single coupons in the mail, your best best may be an online coupon clipping service. Single coupons can sell as low as a few cents, but you usually need a minimum order in order to check out. You can also buy entire unclipped coupon inserts on places like Ebay.
Start a Coupon Train
A coupon train is another great way to get coupons in the mail! Coupon trains are nothing more than groups of people exchanging coupons they don't need for coupons they do via mail. One person starts the train by gathering names and addresses of other couponers (riders), as well as what coupons they want or need. The first person on a coupon train then collects several coupons in an envelope and sends them to the first person on the list. That person takes out any coupons that they want, replaces them with coupons of their own that they don't want, and mails it to the next person on the list, and so on.
Each person is responsible for replacing coupons that they take from the envelope, as well as removing expired or almost expired coupons. You can start your own coupon train or join an existing one.
Any other tips for how to get coupons in the mail?