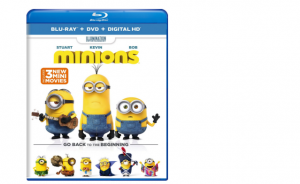 Minions
 is still super popular with the kids and right now, you can get it at Amazon for less than $15!
Minions (Blu-ray + DVD + DIGITAL HD)
The Minions, breakout stars from "Despicable Me," are presented in an origin story that showcases their unpredictable personality and physicality, and pairs them with equally memorable human characters. As it turns out, Minions have existed since the beginning of time. They have evolved from single (yellow) cell organisms into the familiar beings we know, and they live for a collective purpose: to seek out and serve the most despicable master they can find. Academy Award winner Sandra Bullock will lead the voice cast of the human characters as Scarlett Overkill, the world's reigning super-villain of the 1960s.