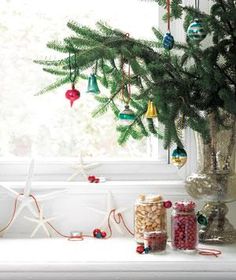 We don't all have the time to spend hours each week decorating for Christmas. As much as I'd like to immerse myself in the holiday preparation and decorations, life always seems to get in the way. The kids need to go to martial arts, hubby needs clean laundry,gifts need to be wrapped, and these darn people want to eat every day!
Between home and work, I just have no time left in most days to get my halls all decked and festive. In fact, by the time I usually get a few spare moments, Christmas is right around the corner!
Of course, I always come up with something and make it work. A few quick and cheap little tricks is all it takes to get ready for Christmas in just a short amount of time.
Make Your Home Scent-sational
You may be surprised at how a seasonal scent can help you and your home get ready for Christmas. Light some cinnamon, pine, or Christmas cookie scented candles to set the festive mood.
Put Ornaments on Display
Christmas tree ornaments aren't just tree accents. Fill a clear glass bowl or vase with small colorful Christmas balls and display them on a tabletop or shelf.
Bring the Outdoors In
We always like to get ready for Christmas by bringing a little natural beauty indoors. We do have an artificial Christmas tree, but a few evergreen branches in a vase or a bowl of oversize pine cones always adds a rustic country Christmas charm.
Wrap Some Gifts
Nothing helps you feel festive and get ready for Christmas than some wrapped gifts! If you don't have any actual gifts to wrap, you can wrap empty boxes or use festive holiday boxes. Place them in small groups throughout your home or arrange them under the Christmas tree.
Bring Out the Holiday Throws and Pillows
Probably one of the quickest ways to get ready for Christmas is by placing holiday-themed throws and pillows on sofas and chairs. You can also use throws and pillow covers in holiday colors, like red, green, silver, and gold. These are more versatile and can be used throughout the year, not just during the holidays. You can also use wide ribbon to "wrap" existing pillows like presents for a quick festive touch.
Make Some Quick Wall Art
I love the look of giant gifts hanging on the walls! It just adds an instant holiday touch, and it's so easy to do if you're trying to get ready for Christmas in a pinch. Just wrap large pieces of thick cardboard, wood panels, or existing frames in some inexpensive wrapping paper and add a few ribbons and bows.
Display Your Holiday Cards
During the holiday season, cheap Christmas decor probably fills your mailbox every week. Holiday cards from family and friends can be hung up and displayed for a quick festive pick me up. Display them on your mantle, clothespin them to a hanging ribbon, or tack them in a cluster on your wall.
Make Edibles Serve Double Duty
Holiday treats can serve double duty during the holidays. A plate of decorated sugar cookies, dishes of colorful candy, or a glass full of candy canes are great to snack on, but they also look festive.
More Frugal Living Resources: