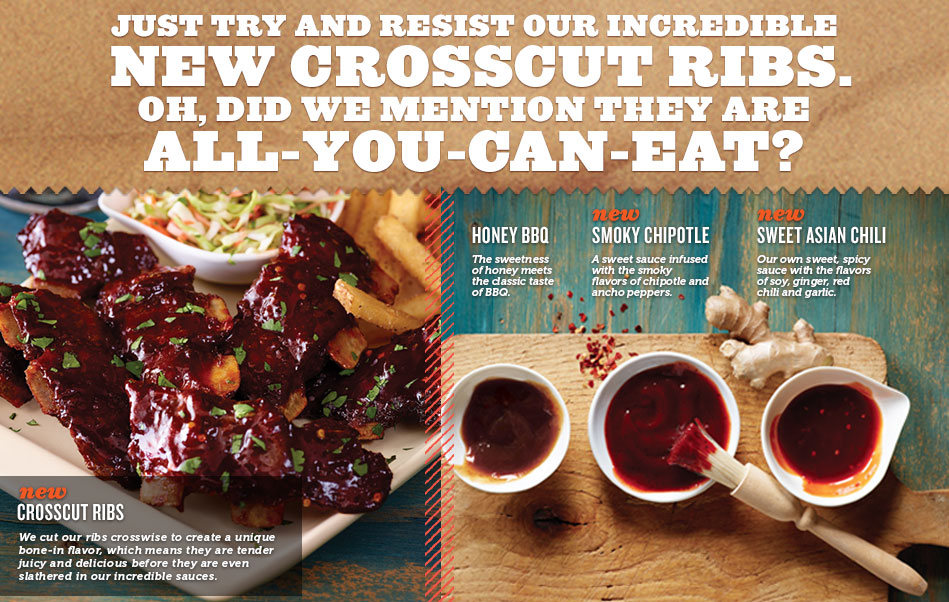 Oh, boy! Are you a rib connoisseur? A rib addict? Then you'll love the new Applebee's all-you-can-eat ribs deal!
Applebee's has reinvented ribs as we know it with their brand-new crosscut ribs! Cut from the tenderest, meatiest pork loin, crosscut ribs have a hearty, bone-in flavor. These are slow cooked and slathered with tasty sweet, spicy or savory sauces. Since these are cut crossways, they're also smaller and easier to eat.
If you're the adventurous type, make sure you try one – or all! – of the new Applebee's sauces! You can choose from:
Sweet Asian Chile: Applebee's sweet, spicy sauce with the flavors of soy, ginger, red chile garlic and red pepper flakes
Smoky Chipotle: A sweet sauce infused with the smoky flavors of chipotle and ancho peppers
Classic Honey BBQ: The sweetness of honey meets the classic taste of mesquite BBQ
And the best part? You can try each flavor with $11.99 all-you-can-eat ribs! The Applebee's All-You-Can-Eat Crossccut ribs deal is valid for a limited time, though, so you'd better hurry!