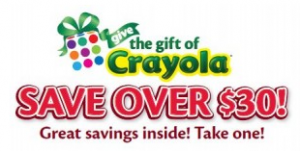 Here is a good way to save money for the holidays! Crayola is offering up to $30 in rebates on specific purchases! You can see the mail in rebate form here. You must mail your original cash register receipt (no photocopies) or online receipt dated between September 1, 2011 and December 31, 2011. Limit one rebate per product per household.
Here are a list of toys that you can receive a rebate on:
Glow Dome: $4.00
Crayon Maker with Story Studio Bonus: $4.00
Glow Board Disney/Pixar Cars 2: $4.00
Glow Book: $3.00
Glow Board: $3.00
Color Wonder Magic Light Brush with Metallic Paper: $3.00
Model Magic Jewelry Boutique: $3.00
Crayola Beginnings Color Me A Song: $3.00
Story Studio Disney Princess: $2.00
Story Studio Disney/Pixar Cars 2 : $2.00
Story Studio Spider-Man: $2.00
Thanks, Couponing to Disney!