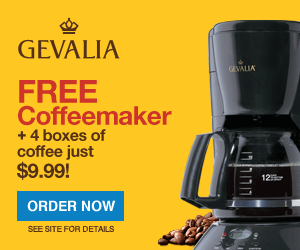 I just wanted to remind you this awesome offer is still available!  Get a great deal from Gevalia! You get a FREE Coffemaker plus 4 boxes of coffee or tea for just $9.99 Shipped!
Included:
Classic Coffeemaker
4 boxes of your choice of coffee or tea
Free coffee samples
This coffeemaker is valued at $99.99 and this deal is worth the coffee alone.  This would be nice as a gift idea or a treat for yourself.
As you may know, as soon as your order is placed you are automatically enrolled to receive more Gevalia shipments. After you receive your order just call 800-438-2542 to cancel your account (login to your account online) it takes 2 minutes. You will never receive a bill and you get to keep all of the above with no further commitment.