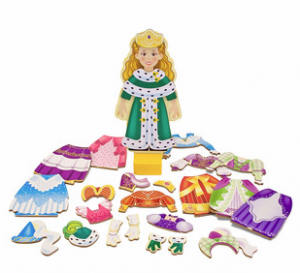 UPDATE:  I was just told by Gilt Support on Twitter that the link for the free $20 Credit is mo longer valid.  But it seems to be giving the credit to you, so maybe they have not disabled it.  I am guessing they will probably cancel orders.  If you are concerned you can go ahead and cancel the order since they have not been shipped.
It looks like some of you missed out on the Free $20 Credit to Gilt I shared with your a dew days ago.  Well, great news!  There is a new link available for this offer.  Claim a free $20 credit to shop at Gilt when you sign up for a new account through this link. This credit is good to use towards shipping too. If you did not get this credit before try using this new link.
Today, under Children, they have a sale on Doug & Melissa toys and there are quite a few items that would be free after credit.
Thanks Mojo Savings!