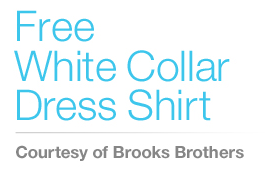 Here is a fun giveaway from Gilt.  The first 813 people to add a white collared shirt to their cart and head to checkout will get it free.  To be able to snag this freebie you need to:
Then click on the "Men" tab
Scroll down to the "White Collar Collection
If you are one of the first 813 to add teh shirt to your cart you get it FREE.  As you can see this is a very limited freebie so I don't expect it will last very long.  Good luck!
Thanks The Dealyo!