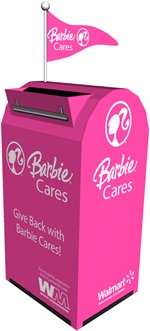 Barbie is going green! On Saturday November 8 from noon til 3pm, you or your daughter can bring any "previously loved" Barbies you may have lying around to participating Walmarts so that they can be recycled by Mattel. For each doll collected Mattel will donate a brand new doll to a local children's hospital for up to 100,000 new dolls. What a wonderful idea! Old barbies is something I find at almost every garage sale I visit, so I know there are a lot of old barbies waiting to be donated out there.
This is a pilot program to explore toy recyclability. We can help make it a successful program with a good turn out. Bring a camera to have your or your child's picture taken with Barbie and you will also receive a coupon to print it for FREE on the Kodak picture Maker.
Check out the list of participating Walmarts.