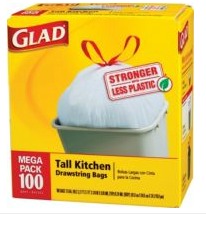 There are two Glad trash bags printable coupons you can get tight now.  Use zip 60712 and sort by Household to find these two faster:
$1/1 GLAD® 30-Gallon or Larger Trash Bags
$2/2 GLAD® 13-Gallon Kitchen Trash Bags
If you need a deal NOW, through the end of today (3/17) you can get the following deal at Target:
Get $5 Gift Card wyb 2 Glad Trash Bags $12 ea
Use one $2/2 Glad trash bags printable coupons
Pay $22 and get back a $5 Target gift card
That's like paying $8.50 for a 100ct box of trash bags.  That's a good price per bag.  I often share a Staples deal for $9.99 for a 100ct box and this is $1.50 less than that.  There are other great weekly Target deals available right now.  It may be worth a trip to Target today.
Thanks Savings Cents with Sense!