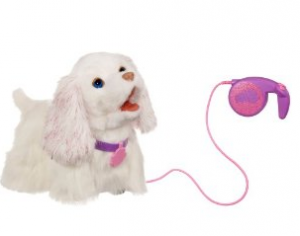 You can get the Glitter Go Go My Walkin Pup for $35 from Amazon.  This is $30 off its regular price.  This same toy is $52 on Walmart.com.
Product Features
Plush, electronic puppy makes cute puppy sounds
She wags her tail, moves her head and wiggles her body
She gets excited when you attach her leash because she knows you?re going somewhere fun
Puppy comes with a sparkly remote control leash so you can guide her where you want her to go
This one ships free with Amazon Prime or with Amazon Super Saver shipping with a $25 order.