Booties! Booties! Booties! Short ankle boots are an awesome addition to any lady's closet. They're stylish and versatile, and can be worn with almost any outfit, whether you're going casual or a bit dressy.
Shoedazzle has a pretty nice deal going on right now if you're looking to snag a great new pair of boots! New customers can get some huge discounts on their first pair with a new VIP membership!
Normally, shoes, booties, and boots are around $40 or more. But, new VIP members can snag their first style for around $10! There's no coupon code needed.
Head over and take a quick style quiz and create a new account. Browse through the shoes and boots, and click through to the product pages to the marked down promotional prices. Styles start at just $9.99, which is a huge discount from the regular prices! But, make sure you make your purchase within 60 minutes from when you take the style quiz and create your account, because this is a very limited time offer!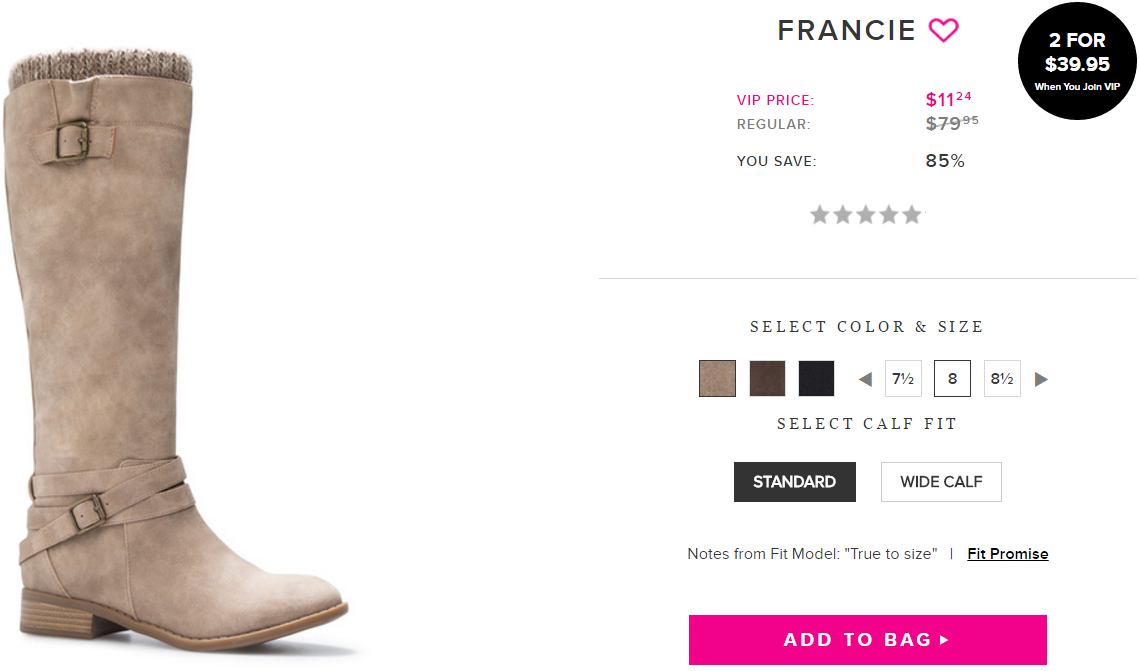 New VIP members can also snag two pairs for only $39.95 too! Just add boots or shoes to your cart in multiples of two for this deal. Plus, you can also get FREE shipping on orders of $39.00 or more!
Ready to get started? Head over to Shoedazzle and take their quick style quiz. Choose your favorite styles from groups of shoes, clothes, and makeup to help Shoedazzle determine the best styles and fashions for you.
Once you become a Shoedazzle VIP member, you'll receive new styles handpicked just for you in your showroom each month. You'll receive an email each month before the 5th. Visit your Shoedazzle Showroom by the 5th of each month to check out the styles for you. If you don't want to make a purchase, simply 'Skip The Month' by the 5th and you will not be charged the $39.95 member credit. Skip as many months as you'd like, and you can cancel at any time.