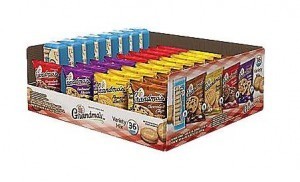 Another great snack deal! Head over to Staples where you can get Grandma's Cookies Variety, 36 Count for only $9.99! The cookies included in this pack are:
 9 (2.5 oz.) Grandma's Chocolate Chip

9 (2.5 oz.) Grandma's Peanut Butter

4 (2.5 oz.) Grandma's Oatmeal Raisin

6 Grandma's Chocolate Brownie (2.5 oz.)

8 Grandma's Vanilla Sandwich Creme (3.025 oz.)
You can get free shipping on orders of $14.99 if you're a Staples Reward member. It's free to join!