How are you guys doing with the grocery challenge?  I hope you guys didn't think that I dropped this because I didn't!! Sure I was away for the better part of the second week.  Then I came home and trying to get settled back again I didn't have a chance to get ready for planned week.  But actually week three worked out well because we were able to make up for all the spending on eating out we did on week 2  Here's the recap of my expenses for both weeks.  I want to note that I am only including the eating out expenses for my husband and kids while I was at Blogher.   Blogher provided breakfast and lunch both days and if you attended any parties, most  offered items for dinner.
Week 2
No grocery shopping because we had milk and fruit and OJ from the previous week.
Starbucks $6.21
Breakfast Walker Brothers $20.98
Chinese take out $30
Total= $57.19 low because my husband stayed at his parents house while I was at Blogher and they are very generous people 🙂

Week three
Walmart groceries $23.85
Kwik trip $5.99 (milk and bananas)
Pick N Save $16.40
Target $27.16
Mexican take out $26
Total= $99.40 Right at $100 goal. However, I want to point out that the $27 at Target was for four pounds of whole bean coffee that should last us a few weeks. Sorry, but we don't do cheap coffee, we just can't.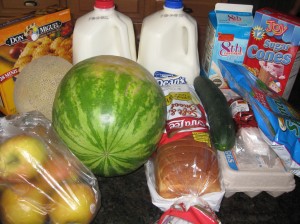 Week Four
So far I spent $33.64 for what you see above at Walmart.  Mostly fruit, milk for the week, bread and eggs.  The sugar cones are for my four year old (riiight!) and the empanadas are an easy lunch for me.  I also picked this from my garden: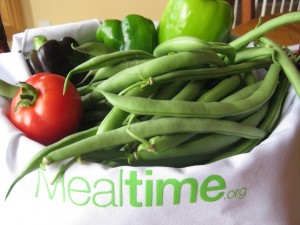 Menu Plan
Breakfasts: pancakes, oatmeal and cereal
Lunches: PB&J sandwiches, tuna salad sandwiches,empanadas or leftovers
Dinners:
Sunday:  probably eat out somewhere since we are going to Renaissance Fair
Monday: Broccoli quiche
Tuesday: stuffed peppers
Wednesday: Leftovers
Thursday: Spaghetti and spinach
Friday: Meatloaf and green bean casserole
Saturday:  Leftovers
I mentioned at the beginning of this challenge that one of my goals was to use up what I have in my pantry and freezer. I had a lot of food stockpiled yet due to poor planning and lack of imagination a lot of it went without being used.  I have been working with the folks from Mealtime.org and using the resources they have available on their website to:
1) find recipes and use the food that I have stockpiled to create meals for my family
2)  find storage solutions that will help me manage the food that I have in my pantry and freezer and make sure no food goes wasted and gets used/consumed by my family.
I will be giving you an update on what solutions I have found next week.  I will also have an AWESOME giveaway sponsored by the Mealtime.org photos to give one of you a chance to improve your pantry.  When I say awesome I mean it! you don't want to miss this one.  Meanwhile I suggest that you spend some time checking out the Mealtime.org website.  A really good place to start is by reading the Essential Kitchen Toolkit.  There you will learn how to organize your kitchen to make it work for you.  You will also find ideas for pantry, fridge and freezer organization.  You will also find great ideas of what to do with canned foods and debunk some myths regarding canned foods.  Then explore the recipe search bar to search for recipes using whatever items you have on hand.